In her 1995 speech to the U.N. World Conference in Beijing, the current Secretary of State of the United States, Hillary Clinton, spoke about strengthening families and societies around the world by empowering women "to take greater control over their own destinies," and called on "all governments — here and around the world — [to] accept their responsibility to protect and promote internationally recognized human rights." [1] When women are free to choose whether or not to have children, when to have children, and how many children to have, then societies and nations around the world will prosper. It is in the interest of all people and all nations that women around the world are given choices and access to resources concerning reproduction and family planning.
Sadly, women are often the ones denied the right to make these decisions. Reproductive decisions are commonly determined by husbands, families, communities, religions, customs, and governments, instead of the women directly implicated. To add to the problem, there are an estimated "200 million women around the world who would like to delay or end childbearing but have no access to modern contraception." [2] UNFPA Executive Director, Dr. Babatunde Osotimehin, says that we must invest in "the resources to enable women and men to have the means to exercise their human right to determine the number and spacing of their children." [3] By violating the reproductive rights of women, we are going against the human rights of women, children and men.
In short, reproductive rights are "essential to the enjoyment of other fundamental rights." [4] As such, there must be a greater emphasis on having "sex education and reproductive health programmes" [5] for women and girls, in addition to making contraceptives more widely available. The choices concerning reproduction often concern a "woman's right to life and health," which further affects families and nations by "compromis[ing] the rights of the rest of the family, as it may lead to families being impoverished, and siblings being obliged to assume household responsibilities and drop out of school." [6] If a woman dies during pregnancy, often due to complications from her age, lack of proper food, medicine, or medical care, the newborn's health is at risk as well.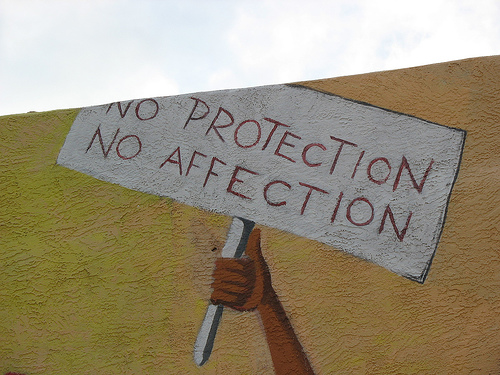 Hillary Clinton asserts that "it is a violation of human rights when women are denied the right to plan their own families." Throughout history, people have attempted to shed more light on reproductive rights of women, and find ways to enforce them. The United Nations continually held conferences throughout the 1990s emphasizing reproductive rights as essential to development around the world. We then saw the same trend of advocating for reproductive rights exhibited on an international scale, from the Cairo Consensus of 1994 to the Beijing Conference of 1995, and later the World Summit of 2005. [7] Yet, here we are years later, discussing the same issues, fighting for the same rights, and in many nations around the world, in the same place we were hundreds of years ago. While societies have seen some progress in recent decades, there are still girls being forced into pregnancy shortly after they hit puberty. Others have no control over planning their families simply because of familial power dynamics, or because they do not have access to resources and contraceptives.
One cannot help but sympathize with the voiceless women at the mercy of disempowering traditions. These women often have no say in planning their family and frequently risk their lives to have children based on the requirements enforced by their customs, families, husbands or governments. When we eliminate this prejudice and discrimination, we see that we are all human beings united in our will to live freely and provide the best future we can for future generations. By giving every woman, especially those in the developing world, the right to choose - to chose whether or not she will bear children, when she will have children, and the number of children she is going to have, we will achieve those goals. More importantly, we will show the next generation that their ancestors did all they could to secure a better future for them, and did not surrender to discrimination, ignorance and injustice.
Photo: brains the head, teofilo (flickr)
1. http://www.unfpa.org/rights/motherhood.htm" http://www.unfpa.org/rights/motherhood.htm
2. http://www.americanrhetoric.com/speeches/hillaryclintonbeijingspeech.htm" http://www.americanrhetoric.com/speeches/hillaryclintonbeijingspeech.htm
3. http://www.populationconnection.org/site/PageServer?pagename=issues_defendingwomensrts" http://www.populationconnection.org/site/PageServer?pagename=issues_defendingwomensrts
4. http://www.unfpa.org/public/home/news/pid/7597" http://www.unfpa.org/public/home/news/pid/7597
5. http://www.unfpa.org/rights/rights.htm" http://www.unfpa.org/rights/rights.htm
6. http://www.unfpa.org/rights/rights.htm" http://www.unfpa.org/rights/rights.htm
7. http://www.unfpa.org/rights/motherhood.htm" http://www.unfpa.org/rights/motherhood.htm
8. http://www.unfpa.org/rights/rights.htm" http://www.unfpa.org/rights/rights.htm