From 22 to 24 October 2010, Montreal-based Palestine-solidarity organizations will host an historic 3-day conference which aims to move forward the campaign for Boycott, Divestment and Sanctions (BDS) against Israeli apartheid.
In July 2005, over 170 Palestinian civil society organizations, from unions to women's groups, from refugee organisations to cultural groups, came together to issue a plea for BDS. In launching this movement, Palestinians have called upon people of conscience the world over to boycott Israeli products, divest from Israeli companies, and encourage their governments to impose sanctions on Israel until the latter respects international law and Palestinian human rights.
The BDS campaign focuses on three basic demands:
1. That Israel end its illegal occupation and colonization of all Palestinian lands— including East Jerusalem— and dismantle the apartheid wall around the West Bank;
2. That Israel respect the right of return of Palestinian refugees;
3. That Israel grant full equality to the Palestinian citizens of Israel, who currently make up 20% of its population.
BDS: A strategy to end Israeli apartheid
Created and guided by Palestinians, the BDS campaign opposes all forms of racism— including anti-Semitism— and is anchored in the universal principles of freedom, justice and equal rights that motivated the struggles for civil rights in the United States and apartheid-era South Africa. Israel's granting of rights and privileges according to ethnic and religious criteria fits the UN-adopted definition of apartheid, indeed South African Archbishop Desmond Tutu, former US-president Jimmy Carter, and many prominent legal experts agree that Israel is an apartheid state.
Though there are differences between the situation of blacks in apartheid-era South Africa and that of Palestinians today, the BDS campaign takes its inspiration from the grassroots global movement for the boycott of South Africa that helped bring down the apartheid regime in the 1990s. As Nelson Mandela has said, "Our freedom is incomplete without the freedom of the Palestinians."
The international movement for BDS has grown substantially since it was launched only five years ago. Now, in the wake of Israel's assault on Gaza in 2009 and its recent attack on the humanitarian aid flotilla en route to Gaza, more and more people are joining the movement to end Israeli impunity and Western complicity. Every year, increasing numbers of trade unions, universities, civil society groups, churches, and governments are taking a stand.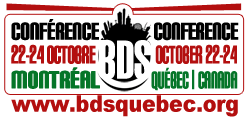 About the Conference
The 2010 conference is being organized by the Coalition for Justice and Peace in Palestine (CJPP), Palestinian and Jewish Unity (PAJU), Solidarity for Palestinian Human Rights (SPHR), Tadamon! Montreal, and the UQAM Coalition for Justice in Palestine (CJP-UQAM), in collaboration with the Boycott National Committee (BNC) in Palestine (www.bdsmovement.net).
Omar Barghouti, a renowned Palestinian political and cultural analyst, will be one of the keynote speakers at the conference. He is a human rights activist involved in the struggle to end oppression and conflict in Palestine. Barghouti is a founding member of the Palestinian Campaign for the Academic and Cultural Boycott of Israel (PACBI – www.pacbi.org) and the BNC.
Also speaking at the conference is Bongani Masuku, International Relations Secretary of the Confederation of South African Trade Unions (COSATU) from Johannesburg, South Africa. The Congress of South African Trade Unions (COSATU) was launched in December 1985 after four years of unity talks between unions opposed to apartheid and committed to a non-racial, non-sexist and democratic South Africa. COSATU has been a key supporter of the movement for BDS against Israeli apartheid.
The BDS 2010 Conference has 4 main objectives:
1. To bring together individuals and organizations from all sectors within civil society who are working to support of the Palestinian call for BDS, in order to expand the campaign;
2. To consolidate and carry forward the BDS work already underway in trade union, academic, cultural, and consumer sectors;
3. To facilitate communication between different campaigns and organizations in order to coordinate existing and future BDS campaigns and actions;
4. To raise public awareness and engage in popular education about the BDS campaign, its history, and its goals.
Join us this October – everyone is welcome!
Get more info and register for the conference at www.bdsquebec.org
Find us on facebook under "BDS Quebec"
Fight the power, turn the tide! End Israeli apartheid!