Sitting on one of the packed yellow school buses on the way to the Journées Des Alternatives, my expectations were dim. After all, I was spending my first weekend in Canada at a no-frills summer camp… with strangers. However the experience proved to be not only fun, but also a great introduction to Canada.
I was surprised by the diversity of the participants and panels. On the bus I sat next to a man from Cameroon who shared his experiences as an African in Canada. Around the bonfire that evening, there was a child beginning to fall asleep on my right, a stately Peruvian lady debating with a student on my left, and across from me a Canadian storyteller recounting an old tale about the origins of men and women.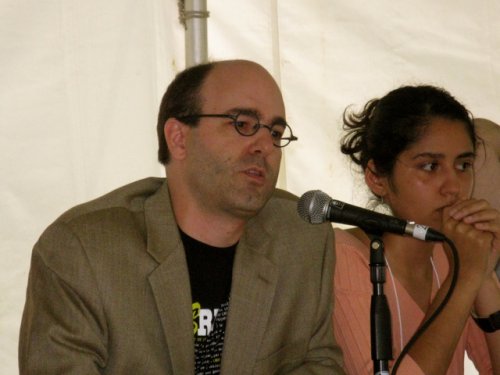 Alain Deneault and Laura Lopez Handal discuss the Mining Industry
The atmosphere and participants were friendly, which created an interesting contrast with the engaging and spirited debates that took place during and after the workshops and panels. In fact it was specifically this aspect of the weekend that I loved: the ease with which people met and spoke, observed and listened.
The myriad discussions offered an analysis of the issues and politics that build and transform Canada, but as a foreigner I found specifically motivating the fact that all the participants there, whatever their age, sex, religion or origins, felt responsible for and concerned by the questions and issues that shape their greater society and our world. This was a complete new experience— I had never witnessed such a large sample of society mobilize before.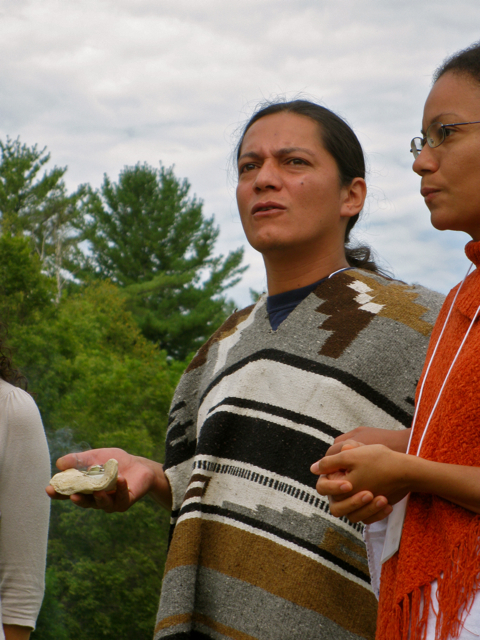 Cesar Caceres cleanses our spirits
To name but two of the dozen or so panels on topics ranging from Ecosocialism to Hip Hop as Social Change, from the up-coming Palestinian World Education Forum to the history of Third World Debt, 'No democracy without a voice' emphasized the necessity for open dialogue and public debate, as well as the fact that the exercise of dissent is the very essence of democracy. While 'Mining enterprises and the public good' proclaimed that as citizens it is our duty to protest against a government that encourages an industry that is harmful to the environment, to indigenous peoples, and to state coffers. Most importantly and fundamentally however, all of these workshops and panels reminded me of the culture and values we all hold dear— engagement, justice, equality, and the responsibility we hold as citizens of a shared world.