Elvis Costello cancels shows in Israel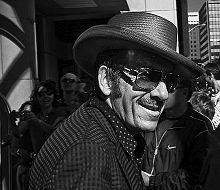 "It is a matter of instinct and conscience," writes internationally celebrated singer-songwriter Elvis Costello in an open letter reflecting on a landmark decision by Costello to cancel planned performances in Israel this summer.
Around the world in recent months a wave of high-profile artists are publicly expressing support for the Palestinian struggle for liberation and in opposition to Israeli apartheid policies against the Palestinian people. Artists globally are responding to the 2005 appeal from Palestinian civil society for a comprehensive campaign of boycott, divestment and sanctions against Israel rooted in a similar campaign internationally that targeted the apartheid regime in South Africa. Click here to read on...
500 Years of Resistance comic book documents indigenous struggle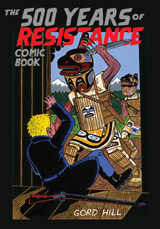 The artistic style of Gord Hill is one of a man less obsessed with art than that of a man who desperately needs you to understand the weight of stories which must be told. A self proclaimed warrior and member of the Kwakwaka'wakw Nation , Hill has spent a lifetime defending his people and his territory, telling stories through art, writing, carving, and activism. His latest project, The 500 Years of Resistance Comic Book is a documentation of the fighting spirit and ongoing resistance of the indigenous people of both North and South America. Click here to read on...
The water agenda: an interview with filmmaker Liz Marshall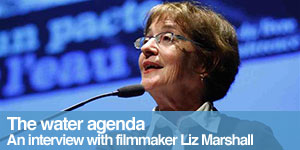 There has been sudden explosion in documentaries looking at the problems and politics of water. Films like Water Life, Blue Gold, Thirst, Flow, The Water Frontand others have focused their attention towards a contemporary issue facing the whole planet: access to clean water and water sustainability. Liz Marshall's new documentary Water on the Table focuses in even closer, following water rights advocate Maude Barlow as she tirelessly fights, lobbies, talks, and debates her way toward a future where the world will secure accessible, clean and sustainable water resources for all. This is an urgent issue, as urgent as fossil fuels, and thinking otherwise is to dream in the plenitude of the west. Water is running out. Water is being privatized, commodified, bottled and packaged like cream cheese and water is being fought over. Many are already desperately going without and many are sketching out policies that will spell a future of water-as-commodity. Click here to read on...
Giant plastic six-pack rings strangle public sculptures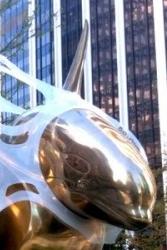 Last week giant plastic six-pack rings strangled public sculptures around Vancouver. Initiated by the Plastic Pollution Coalition and developed by Vancouver-based ad agency Rethink, this stunt presented downtown commuters with visual protests against the mass consumption of single-use plastic. Click here to read on...