Home > English > NEWS AND ANALYSIS > Fresh protests in Bolivia road row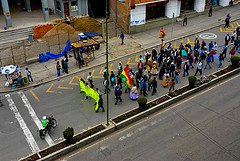 Fresh protests in Bolivia road row
Thursday 29 September 2011
Tens of thousands of Bolivians have taken to the streets to protest against President Evo Morales's handling of demonstrations opposing the construction of a controversial highway through an Amazon rainforest reserve.
Protests took place in several major cities on Wednesday in defence of the reserve, which is inhabited by thousands of indigenous people.
Demonstrators heaped reproach on Morales, the first indigenous person to be elected president, for a violent government crackdown on earlier protests.
"This government is the worst and it should go because it attacked human beings, the indigenous compatriots who had given it their support, and now it's turned its back on them," said Juan Pinto, a 44-year-old schoolteacher who took part in a march that brought central La Paz, the capital, to a standstill.