Home > English > NEWS AND ANALYSIS > Somalia signs 'roadmap' for political reform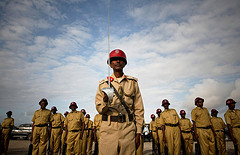 Somalia signs 'roadmap' for political reform
Thursday 15 September 2011, by Al Jazeera English
Somali leaders have signed a "roadmap" for the formation of a government to replace the fragile transitional body that has failed to bring peace to the fragmented country.
"We are clearly committed to implement this roadmap, the Somali people have suffered a lot," said Somali President Sharif Sheikh Ahmed.
"We want the Somali people to be secure, to lead them to prosperity," Ahmed added.